ICEGATE REGISTRATION CONSULTANTS JAIPUR
Indian Customs Electronic Gateway (ICEGATE) managed by Indian Customs of Central Board of Indirect Taxes and Customs (CBIC) that deals with the Trade, Cargo Carriers and other Trading Partners .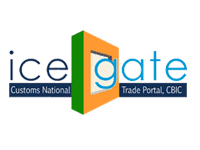 ICEGATE Registration Jaipur
Organisations whether any Importers /Exporters/ CHAs/ Airlines/ Shipping Agents etc. or any trade partners (Banks, Custodians /FSSAI, etc.) or Government Agencies (DGFT/Ministry of Steel etc.), connect ICEGATE for document filing, data sharing or policy making purposes under Customs various requirements.
ICEGATE REGISTRATION FOR IMPORTER EXPORTER
Directorate of System implemented system for filing Customs documents through Remote EDI System (RES) like Bills of Entry, Shipping Bills, IGM, EGM, CGM, etc.
All Importers, Exporters, Customs Brokers, Shipping Lines, Airlines or their agents who are authorized to file document (BE/SB/IGM/EGM/CGM etc.) through Remote EDI System (RES) with Valid Digital Signature Certiifcate DSC..

ICEGATE is internally linked with multiple partner agencies including RBI, Banks, DGFT, DGCIS, Ministry of Steel, Directorate of Valuation and other various Partner Government Agencies involved in EXIM trade enabling faster Customs clearance. All electronic documents/ messages being handled by the ICEGATE are processed at the Customs' end by the Indian Customs EDI System (ICES).

Any entity registering on ICEGATE website can register with only one F-card holder / parent user even though the entity may have more than one F card holder / parent user whose name is endorsed on the Custom Broker license. All other users need to be registered as child users for the same F-card user / parent user II. The registration process keeps a check on impersonation and repudiation etc. The principal / parent user is given access at the application level with proper role mapping, enabling them to approve or to disable their child user(s)

ICEGATE AD CODE REGISTRATION
Exporters are presently required to register their Authorised Dealer (AD) Code and Bank Account(s) for purposes of remittances and availing export benefits respectively at every Customs station. Even though it is an one-time procedure, it requires physical interaction between the Customs and the trade and submission of physical documents by the latter. Being a manual process, it causes delays impacting exports besides requiring the exporters or their representatives to personally visit the Customs Houses. Same is the case for the process of updation of Bank Account details. On review, this procedure has been done away with.

Fresh registration of AD Code with Bank Account for the purpose of foreign remittance and IFSC with Bank Account for the purpose of IGST refund /Drawback
(i) Bank authorisation letter in format attached as Annexure-A
(ii) Copy of IEC
(iii) Copy of GST registration Certificate
(iv) Copy of PAN Card of the Company/Partnership Entity
(v) Copy of PAN Card of Authorised Signatory (Director/Partner/Proprietor) in Bank Account
(vi) Copy of cancelled cheque
Modify/Change in registered IFSC with Bank Account for the purpose of IGST refund/Drawback. (i) The documents as enlisted at 2.1 (i) to (vi).
(ii) NOC from bank, whose bank account registered in ICES, which is required to be changed

FOR REGISTRATION PROCESS & CONSULTATION CONTACT
@ 08696019471
icegate registration, icegate ad code registration, icegate registration without dsc, ad code registration icegate, icegate new registration, icegate registration process for iec holder, auto iec registration, icegate registration for exporter, ad code registration on icegate, icegate sign up, icegate registration for iec holder, ad code registration in icegate, icegate bill of entry registration, icegate registration online, documents required for icegate registration, icegate registration process, icegate user registration, icegate partnership registration, simplified registration icegate, icegate goods registration, icegate iec registration, simplified auto registration at icegate, icegate new registration application, icegate iec holder registration, icegate auto registration, icegate registration without digital signature, icegate registration status, online ad code registration on icegate, icegate exporter registration, icegate new user registration, gst registration in icegate, exporter registration on icegate, icegate registration sign up, auto iec registration without dsc, registration on icegate, icegate online registration, iec registration on icegate, icegate registration email id, online ad code registration at icegate
Adarsh Nagar Agra Road Ajmer Road Ajmeri Gate Ambabari Amer Road Bais Godam Bajaj Nagar Bani Park Bapu Bazaar Bapu Nagar Barkat Nagar Bhawani Singh Road Biseswarji Brahmapuri Chandpole Civil Lines Durgapura Gangori Bazar Ghat Darwaza Gopalpura Indira Bazar Jagatpura Jalupura Janata Colony Jawaharlal Nehru Marg Jawahar Nagar Jhotwara Jhotwara Industrial Area Jhotwara Road Johari Bazar Jyothi Nagar Kalwar Road Kartarpur Khatipura Mahesh Nagar Malviya Nagar Mansarovar Mirza Ismail Road Motidungri Marg Muralipura New Colony Pink City Raja Park Ramganj Sanganer Sansar Chandra Road Sethi Colony Shastri Nagar Shyam Nagar Sikar Road Sindhi Camp Sirsi Road Sitapura Industrial Area Sodala Subhash Nagar Sudharshanpura Industrial Area Surajpol Bazar Tilak Nagar Tonk Phatak Tonk Road Transport Nagar Vaishali Nagar Vidhyadhar Nagar Vishwakarma Industrial Area