PARTNERSHIP FIRM REGISTRATION RAJASTHAN
Partnership is the popular form of doing business. Partnership is as an association of two or more persons to carry on as co-owners a business for profit". A partnership is not a separate legal entity distinct from its members.
In India, Partnership is governed by the Indian Partnership Act, 1932. Partnership is defined as per section 4 of the Indian Partnership Act 1932 is as the relation between persons who have agreed to share profits of the business carried on by all or any of them acting for all.
We provide the registration of the clients' partnership firm under the Partnership Act, 1932.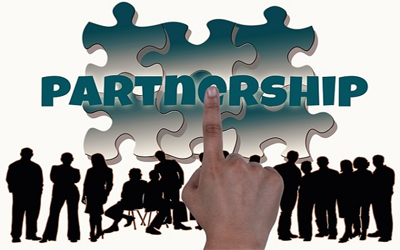 PARTNERSHIP FIRM REGISTRATION
DOCUMENTS REQUIRED FOR PARTNERSHIP FIRM REGISTRATION RAJASTHAN
Following documents we require to register a firm:
Application for Partnership Registration.
Partnership Deed.
ID & Address proof of all Partners. (Copy of Passport/PAN/Voter ID/Driving License/Aadhaar Card)
Two Photographs of all Partners.
Ownership Proof eg. Electricity bill/ water bill/Property receipts, POA, sale deed etc. in the name of applicant in case it is self own or Rent agreement and copy of ownership proof in the name of Land Lord accompanied by NOC, in case it is rented.
Power of attorney.
INFORMATION REQUIRED FOR PARTNERSHIP FIRM REGISTRATION
Firm Name.

Whether all partners are actively engaged in business of Firm.

Remuneration of Partners.

Profit Sharing Ratio and Dissolution Ratio.

Whether bank A/c be operated by all partners jointly or severally.

Whether all bonds, bills, notes, bills of exchange, hundies or promissory notes or other securities given on behalf of the partnership (except cheques) shall be signed, endorsed, accepted or executed jointly or severally.
FOR REGISTRATION & LEGAL CONSULTATION CONTACT @08696019471
Adarsh Nagar Agra Road Ajmer Road Ajmeri Gate Ambabari Amer Road Bais Godam Bajaj Nagar Bani Park Bapu Bazaar Bapu Nagar Barkat Nagar Bhawani Singh Road Biseswarji Brahmapuri Chandpole Civil Lines Durgapura Gangori Bazar Ghat Darwaza Gopalpura Indira Bazar Jagatpura Jalupura Janata Colony Jawaharlal Nehru Marg Jawahar Nagar Jhotwara Jhotwara Industrial Area Jhotwara Road Johari Bazar Jyothi Nagar Kalwar Road Kartarpur Khatipura Mahesh Nagar Malviya Nagar Mansarovar Mirza Ismail Road Motidungri Marg Muralipura New Colony Pink City Raja Park Ramganj Sanganer Sansar Chandra Road Sethi Colony Shastri Nagar Shyam Nagar Sikar Road Sindhi Camp Sirsi Road Sitapura Industrial Area Sodala Subhash Nagar Sudharshanpura Industrial Area Surajpol Bazar Tilak Nagar Tonk Phatak Tonk Road Transport Nagar Vaishali Nagar Vidhyadhar Nagar Vishwakarma Industrial Area